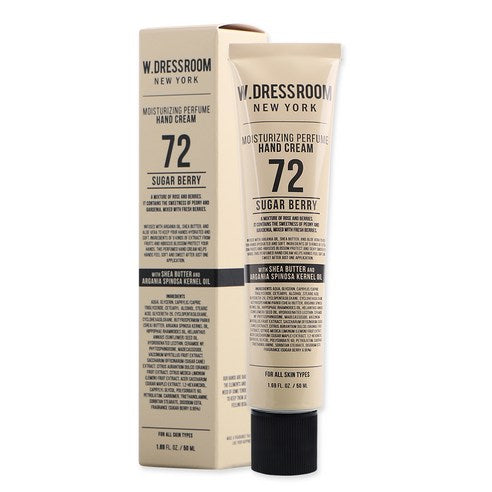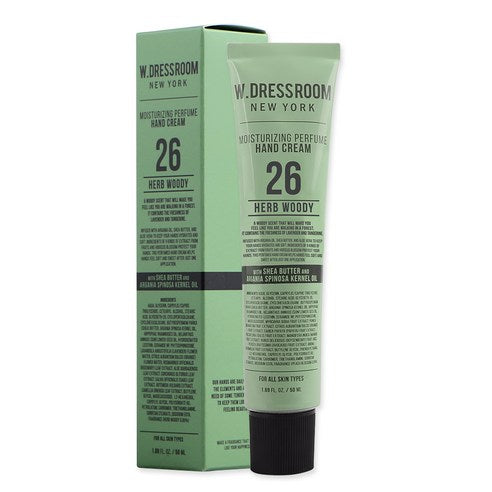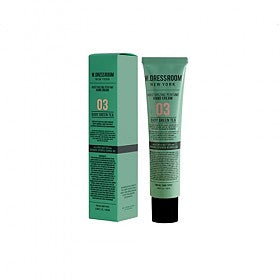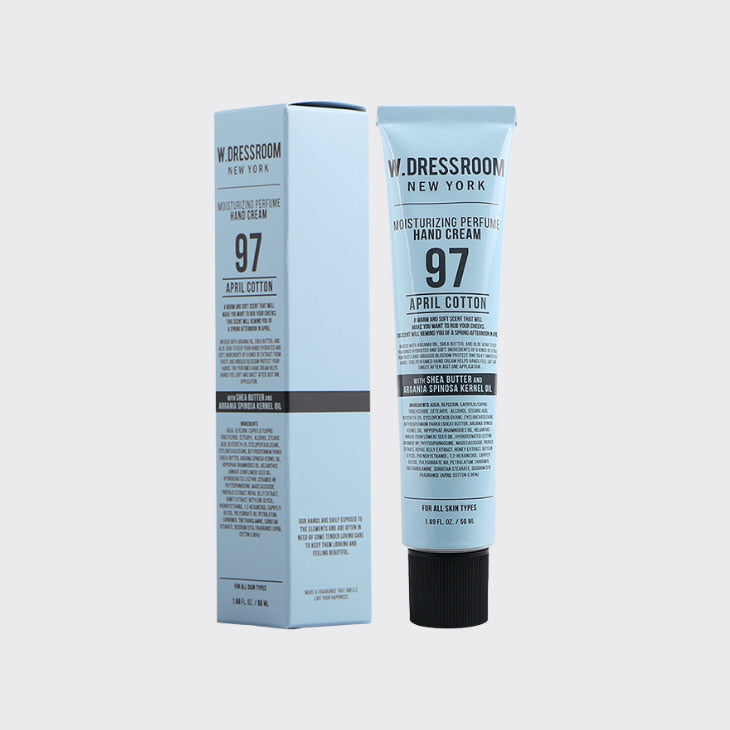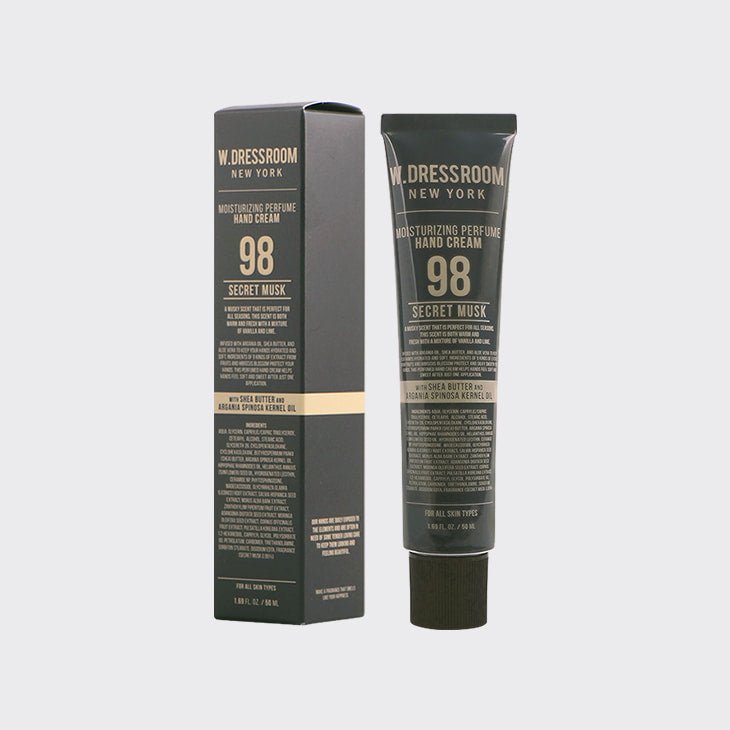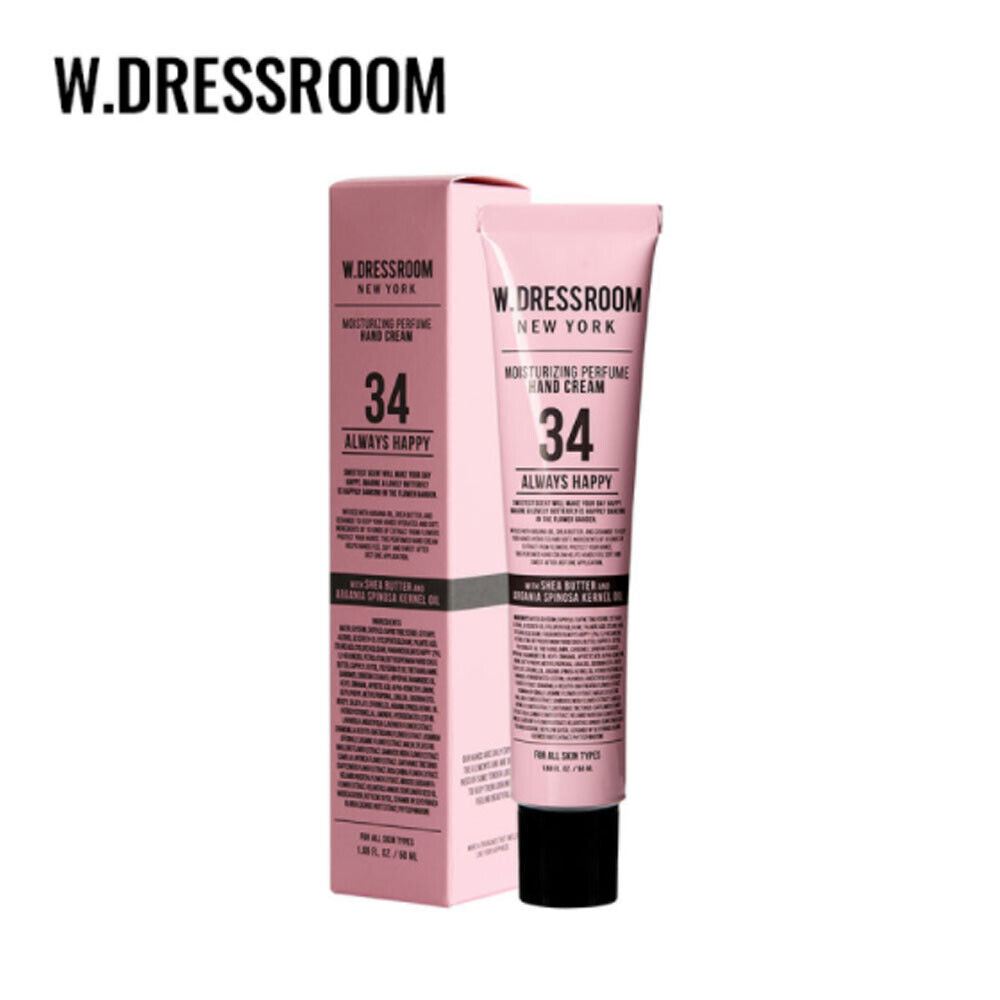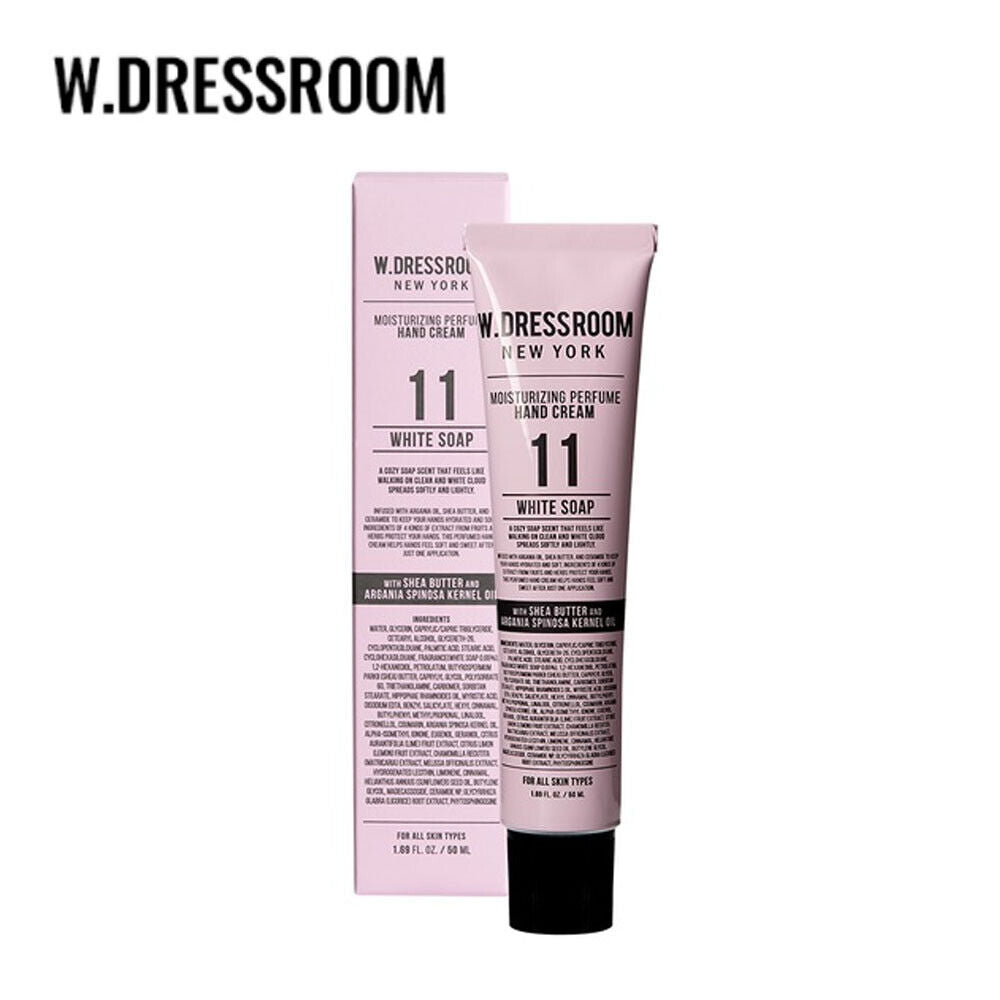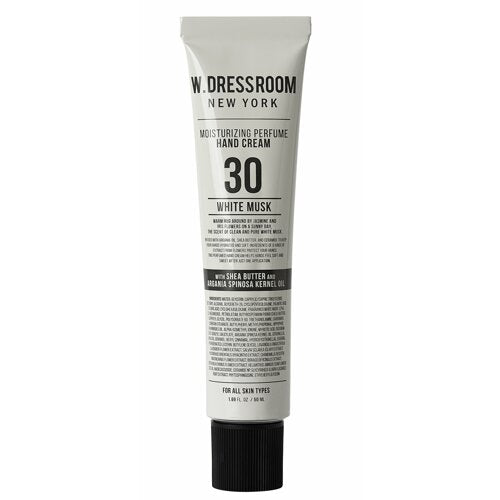 W.DRESSROOM - Moisturizing Perfume Hand Cream - 9 types
The W.DRESSROOM Moisturizing Perfume Hand Cream is formulated with madecassoside and ceramide to hydrate and protect the skin, while argan oil and shea butter help to repair dry hands and lock in moisture. Suitable for all skin types.
No 03 Baby Green Tea - A refreshing green tea musk scent with the softness of delicate green tea leaves and the freshness of citrus.
Top note: Orange, Bergamot, Lemon, Basil
Middle note: Jasmine, Orchid, Rose, Iris, Muguet
Base note: Musk, Amber
No 11 White Soap - A cozy soap scent that feels like walking on clean, white cloud spreads, softly and lightly.
Top note: Aldehydic Notes, Galbanum, Spices, Lavender, Lime, Pear
Middle note: Rose, Gardenia, Orange Blossom, Ylang Ylang, Carnation, Violet
Base note: Tonka Bean, Cedar, Pine, Amber, Musk, Patchouli, Vanilla
No 26 Herb Woody - A woody scent that will make you feel like you are walking in a forest. It contains the freshness of lavender and tangerine.
Top: Bergamot, Orange, Tangerine
Middle: Lavender, Rosemary, Pine
Base: Cedarwood
No 30 White Musk - A clean, pure musk scent with a subtle blend of jasmine and iris
Top note: Watermelon
Middle note: Jasmine, Muquet, Iris, Orchid, Bois de Rose
Base note: Musk, Amber, Light Balsam
No 34 Always Happy - A floral scent full of fresh flowers and small pasture, like petals softly fluttering on a field.
Top note: Grapefruit, Raspberry, Pear, Plum
Middle note: Jasmine, Rose, Violet, Lychee, Apple Blossom
Base note: Cedarwood, Musk
No 49 Peach Blossom - Elegance and sweetness of tangy peach. It contains real sweet and fresh peach.
Top: Sweet Peach, Grapefruit, Banana, Green Apple, Leaf Green
Middle: Freesia, Rose, Cherry Blossom
Base: Jasmine
No 72 Sugar Berry - A mixture of rose and berries. It contains the sweetness of peony and gardenia, mixed with fresh berries.
Top: Cranberry, Raspberry, Cassis, Orange, Apple
Middle: Rose, Peony, Gardenia, Cinnamon
Base: Vanilla, Benzoin, Amber
No 97 April Cotton - A citrus musk scent that embraces the freshness of lime, with the soft sweet scent of vanilla.
Top note: Lime, Bergamot, Anise, Pear, Clove
Middle note: Rose, Lily of the Valley, Violet
Base note: Musk, Amber, Vanilla, Honey, Sandal
No 98 Secret Musk - A warm, floral musk scent with the harmony of fresh pear blossoms and sensual roses, as if walking through a secret forest.
Top note: Cranberry, Raspberry, Cassis, Orange, Apple
Middle note: Nashi Blossom, Rose, Green Leaves
Base note: White Musk
Size: 50ml
MADE IN KOREA.
Peach Blossom - Water, Glycerin, Caprylic/Capric Triglyceride, Cetearyl Alcohol, Glycereth-26, Cyclopentasiloxane, Palmitic Acid, Stearic Acid, Cyclohexasiloxane, Fragrance (Peach Blosson 0.95%), Petrolatum, Butyrospermum Parkii (Shea) Butter, 1,2-Hexanediol, Caprylyl Glycol, Polysorbate 60, Triethanolamine, Carbomer, Sorbitan Stearate, Linalool, Hippophae Rhamnoides Oil, Myristic Acid, Benzyl Benzoate, Limonene, Disodium EDTA, Citronellol, Argania Spinosa Kernel Oil, Butylene Glycol, Butylphenyl Methylpropional, Hydrogenated Lecithin, Helianthus annuus (Sunflower) Seed Oil, Madecassoside, Ceramide NP, Carica Papaya (Papaya) Fruit Extract, Persea Gratissima (Avocado) Fruit Extract, Glycyrrhiza Glabra (Licorice) Root Extract, Rubius Deliciosus (Boysenberry) Fruit Juice, Myrciaria Dubia Fruit Extract, Passiflora Edulis Fruit Extract, Mangifera Indica (Mango) Fruit Extract, Anona Cherimolia Fruit Extract, Phenoxyethanol, Punica Granatum Fruit Juice, Citrus Aurantium Dulcis (orange) Fruit Exract, Phytosphingosine

Ingredients subject to change at manufacturer's discretion. For the most complete and up-to-date list of ingredients, please refer to product packaging.
Apply a small amount on clean hands. Gently rub into hands to absorb. Apply whenever hands feel dry.
Good Quality Hand Cream!
I bought No. 11 White Soap, and it smells lovely! It's a nice fresh and soapy floral fragrance that is extremely moisturising. It also has a nice and smooth texture that isn't too thick. I would definitely buy it again! 100% recommend.