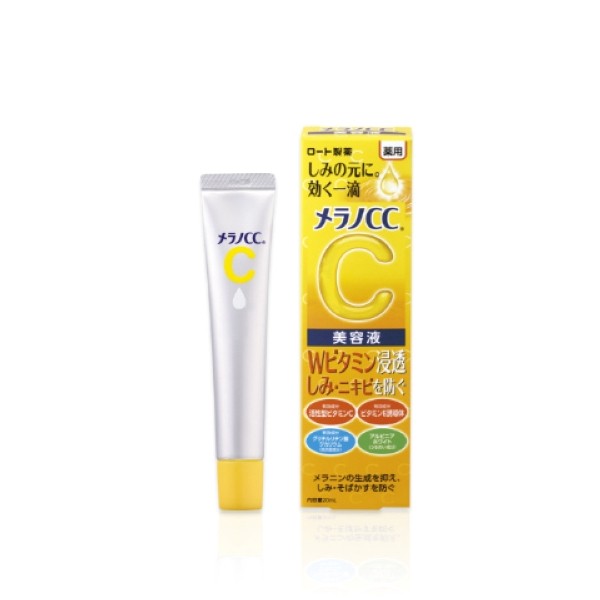 Rohto Mentholatum - Melano CC Vitamin C Essence
The Rohto Mentholatum Melano CC Vitamin C Essence infuses powerful vitamin C and E derivatives to combat dark spots and acne scarring. The ethyl ascorbic acid ingredient brightens the scarring while the dipotassium glycyrrhizate and thymol contribute to reduced redness, irritation, and eliminated bacteria.
Those who suffer from acne and scarring will delight in using the Melano CC Vitamin C Essence by Rohto Mentholatum for its strong ability to fade these symptoms. It's a suitable addition to a cleansing and toning routine, helping to tighten, cleanse, and recalibrate the skin for a healthy result. While suppressing melanin production, it will also keep your skin feeling moisturised and well-nourished.
Use the Melano CC Vitamin C Essence by Rohto Mentholatum if you're struggling with acne-related skin issues or specific problem areas on your face. The lightweight, brightening effects will astound you after only a few uses!
Size: 20ml
MADE IN JAPAN.
Active Ingredients: Ascorbic Acid (Active Vitamin C), Pyridoxine Hydrochloride (Vitamin B6), Allantin, Isopropylmethylphenol ● Other Ingredients: 3-O-Ethylascorbic Acid, L-Ascorbic Acid 2-Glucoside (Ascorbic Acid), Vitamin C Tetraisopalmitate, Vitamin E, Alpinia Cutlet Seed Extract, Lemon Extract, Grapefruit Extract, Serine, BG, 1,3-Propanediol, 3-Methyl-1,3-Butanediol, PG, PEG-8, Absolute Ethanol, POE / POP Decyltetradecyl Ether, Na Pyrosulfate, Edetate, Fragrance

Ingredients subject to change at manufacturer's discretion. For the most complete and up-to-date list of ingredients, please refer to product packaging.
Apply an appropriate amount to entire face or areas of concern, avoiding eye and lip areas. Pat gently to aid absorption.